Friends
Of
Hastings
Cemetery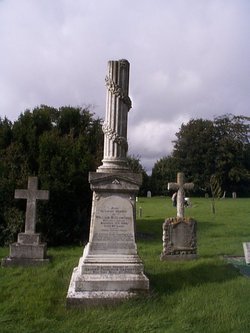 DE T39


Kitty (Kate) Glenister (Levin)
Born 16th August 1829 Richmond, Surrey
Died 17th November 1892 aged 63
William Montague Glenister
Born 28th August 1828 Marylebone
Married 5th September 1847 Marylebone
Died 15th December 1894 Hastings aged 66
Also in loving memory of William M. Glenister who fell asleep December 15th 1894 aged 66 years
'Peace Perfect Peace'
For 37 years Chief Constable of the Borough of Hastings.
Founder and for 30 years Captain of the Hastings and St Leonards Fire brigade.
This monument was erected by his fellow townsmen in recognition of his long and honourable service and as a mark of their esteem.
IN
LOVING MEMORY
OF
KATE
THE BELOVED WIFE OF
W. M. GLENISTER
WHO DIED 17TH NOVEMBER 1892,
AGED 63 YEARS
-------------------
"SAFE IN THE ARMS OF JESUS"
---------------------
Some of the information in these pages, is, with permission, & thanks, from www.glenister.org