Friends
Of
Hastings
Cemetery
AH D02 - Hennah Family
This gravestone is in two parts and appears to have some missing.
Edward William John Hennah – died 2/11/1890 aged 45
Also of Edward John Hennah, Retired Commander R.N.
Son of the above
Also Edward Hennah only son of the above named
Who was lost at sea SS Basuto foundered, 12/12/1901, Aged 26 years
We know from the records that this is also the grave of Anne Hennah – died December 1879, aged 71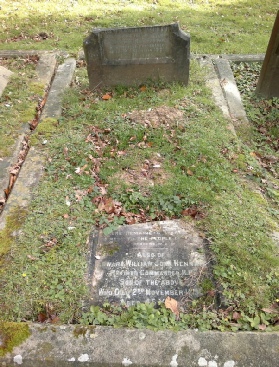 William Hennah (1768 - 1832) was from St Austell. He entered the navy in 1793 and in 1805 was the First Lieutenant of HMS Mars of 74 guns, commanded by Captain George Duff. Duff was killed during the Battle of Trafalgar and William Hennah took over command for the rest of the battle. For his services he received the Thanks of Parliament, a Gold Medal and a Sword from the Patriotic Fund. The ship's company gave him the unusual honour of a Letter of Commendation.
His son was Edward Hennah (1800- 1849) who also served in the navy and was promoted to Lieutenant in 1821. In 1831 he was court martialled, but honourably acquitted. In 1841 he joined the Coast Guard and lived at Menadews.