Friends of Hastings Cemetery
In 1891 he was living at 62 Birdhurst Rd in Croydon with his two younger brothers, looked after by two servants. At the age of 21 he is described as living on his own means, as were his two brothers.
Dr Huckle was educated at Dulwich College and trained at Guy's, qualifying in 1895. He was admitted to the Medical Register on 24th September 1900. The 1913 Register lists his qualifications as a Member of the Royal College of Surgeons (1895), a Licentiate of the Royal College of Physicians (1895), a Licentiate of the Society of Apothecaries (1895) and holding a Diploma in Public Health awarded 1910. He had qualified as a dental surgeon in 1894. He was later called to the Bar as a member of the Middle Temple.
He married Grace Shore Farnfield in Lambeth in 1899. She was the daughter of the late Dr Walter William Farnfield of Guys Hospital. The Glenisters were living at 39 Wellington Square by 1901 and he was practising as a physician and dentist. His only daughter Alice, was born in 1903. In 1905 his address was Rothsay Bank' No.5, Edmund Road. By 1911 he was living at 23 Edmund Roadd in a house of 11 rooms, with a cook and a housemaid. He was still there in 1920 when the house was called 'Woodclyffe', (no. 23 Edmund Road). His residence at his death was Tillington Lodge, no.10 Godwin Road, where his widow was still living in 1831.
He built up a large practice as a G.P. and held a number of public appointments, such as consulting physician to the workhouse, honorary pathologist to the East Sussex Hospital medical superintendent of the local sanatorium.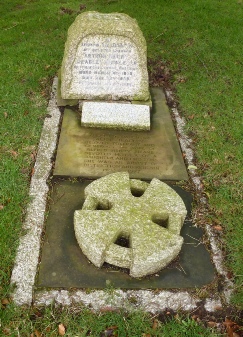 In
Affectionate Memory of
My Beloved Husband
Arthur Henry
Headley Huckle J. P.
of Tillington Lodge, Hastings
Born March 4th 1870
Died Jan 13th 1929

Physician and Surgeon
Beloved by all
And His Wife
Grace Hore Huckle
Died May ? 1961
Aged 87 Years
Doctor Henry Huckle (1870 -1929) who is buried in Plot BA Row H, along with his wife Grace and daughter Alice, was born in Fitzroy, Victoria, Australia in 1870. His parents both came from East Anglia, his father from Cambridgeshire and his mother from Norfolk. By 1873 the family was back in England, living at first in London where his two brothers were born. By 1881 the family were living in Hastings at 3 Breeds Place, where his father was described as a picture dealer and artist employing 10 men.