Friends of Hastings Cemetery

Town's Main Builder Dies
June 30, 1899
Mr Peter Jenkins, the prominent and popular local businessman and works contractor, died suddenly of burst blood vessel at his home in St Leonards on Tuesday 27 June.
"By dint of his own personal efforts and attention to business Mr Jenkins rose to the position of the largest employer of labour in the borough. He was not born with the proverbial silver spoon and was the architect of his own position. He came to Hastings about 30 years ago and began business in a small way. During the latter part of this period Mr Jenkins has carried out many of the chief local contracts and has executed several big jobs for the Corporation, one of the first of which was the erection of the Marine Sea Wall from St Leonards Church to Bopeep, followed, some years later, by a continuance to Grosvenor Gardens. He also erected the new Sanatorium and has also built much in connection with the waterworks.
Recently he completed the noble pile of the Theatre of Varieties in Marine Parade and at the time of his death had in hand the erection of the New Coastguard Station [in Sturdee Place], also reservoirs at Fairlight (for the Corporation) and the New Workhouse.
The late Mr Jenkins was widely respected as a good master. He was altogether a generous-hearted man. In politics he was an ardent Liberal, and although he was seldom seen at public meetings, he had great influence at the time of a contest."
The News said a few weeks later that he had died a rich man, with £160,000 in his will.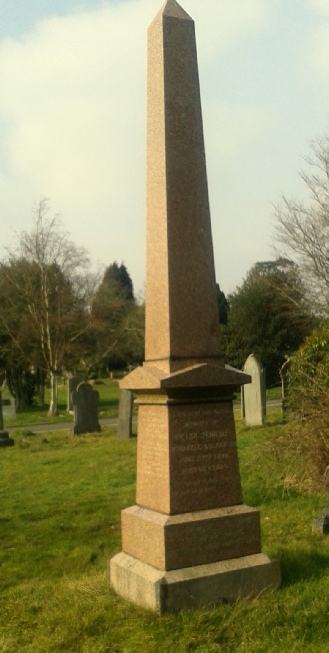 BJ11 & BJ12
To the dear and blessed
memory of
Peter Jenkins,
Who fell asleep on
June 27th 1899,
Aged 60 years.
"The finger of God touched him and he slept"
Also of Mary Jenkins
Wife of the above
Who passed away May 5th 1922Aged 86 years.
"At rest".
In loving memory of
Edith Mary
Youngest daughter of the late
Peter & Mary Jenkins
of St Leonards
Who died on March 22nd 1904
"Until the day breaks, and the shadows flee away"
In loving memory of
Lizzie
Beloved wife of
Septimus Ticehurst
And eldest daughter of
Peter & Mary Jenkins
Who died at Ottawa Bank
Nov. 14, 1884
Aged 25 years
"Fear not, for I have redeemed thee. I have called thee by name.Thou art mine. Isaiah
Also their infant son
Claude
Did Jan 7 1885
Aged ? weeks
In loving memory of
Alice Jenkins
Who fell asleep in Jesus
Feb.24 1886
Aged 20