Friends of Hastings Cemetery

By the time Alfred enlisted in the Royal Garrison Artillery, 138th Hampstead Battery, on 4th October 1915, in Hampstead, he was a decorator living at 53 Bohemia Rd, the family home. His father was listed as next of kin. His age was given as 22 years, 108 days, although he was only 20 when he was killed a year later, (he was born in 1896). He went overseas on 13th April 1916 and was killed 6 weeks later.
Alfred Newman Jinks was killed in action on 29th May 1916 and buried in Bully Grenay Military Cemetery. The War Diary for the 138th Hampstead Heavy Battery, Royal Garrison Artillery records the circumstances. The unit was at Bully, about 20 km north of Arras in the Bethune direction.
On 29th May 1916 the diary records that:
'6244 rounds fired (lyddite). Retaliation. The enemy shelled both positions continuously from 8am to 2.30pm with 8'', 5.9'', 4.2", 18 k. Gun emplacement 97 gun so badly damaged (B sub-section) that detachment was withdrawn to safety. On roll being called three men were missing.
No. 1806 Gunner A. N. Jinks
No. 1842 Gunner G. F. Brickwell
No. 7846 Gunner A. F. Baxter
On cessation of fire they were found in trench communicating with gun pit. Killed by the burst of a shell presumably a 5.9". Death was instantaneous. They were buried with military honours at 7pm in Bully Military Cemetery.'
They were the Battery's first fatal casualties.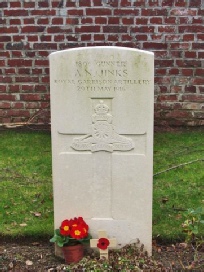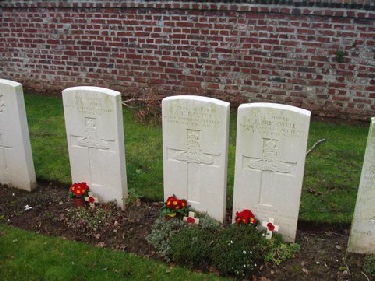 The pictures and the above information comes with thanks from the website of the 'The Hampstead Heavies' 138th Heavy Battery, Royal Garrison Artillery.
http://hampstead-heavies.com/bully.htm
In March 1919 his father completed a form, which was countersigned by 'a clerk in holy orders' at Christchurch St Leonards, in order to claim the 'plaque and scroll' which was awarded to families of war casualties.
Three of his children were still living with him and Sarah – William, Charles and Mary. Henry was living at 3 Vicarage Mansions, Hastings and Frederick was in London. William senior was finally sent his son's medals at the end of August 1922. Unusually, Alfred's military records are complete, having survived the bombing which destroyed many such records in the Second World War.
Sarah died on 28th March 1930 and William died in the winter/spring of 1943 at the age of 80.