Friends of Hastings Cemetery

EI N04 Herbert Kent
Private Herbert Kent (G/6398) of 7th Royal Sussex Regiment was killed at Cambrai on 25th November 1917 at the age of 37. He is remembered on the Cambrai Memorial at Louveral, France.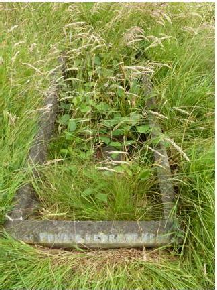 He is also remembered on the grave of his father Frederick Spencer John Kent who died on 9th June 1919 aged 66. Also mentioned is Herbert's younger brother Arthur who died on 8th January 1926 at the age of 41 and who was cremated at Golders Green.
Herbert Kent was born in Hastings in 1880. He was the second son of Frederick and Sarah Ann Kent who lived at Clifton Cottage, Tackleway. Frederick was a local man but his wife came from London. He was a tailor by trade. By 1891 the family had grown – there were now six children. The eldest Mary Jane (16) helped her mother as a laundress, their three sons Frederick (13), Herbert (10) and Arthur (7) were at school and the two youngest were Ethel (3) and Cecil (1). They still lived at 39 Tackleway.
In 1901 there was another child in the family (Ivy 9) but by now Herbert is a compositor and Arthur is a cabinet maker and the two eldest children had presumably left home. Frederick Kent Senior was still working as a tailor and his wife as a laundress and the family still lived at 39 Tackleway.
The unusual circumstances of the death of Frederick Kent Senior were reported in the Sussex Express of 13th June 1919. Under the heading 'Died on a Holiday Walk' we learn that 'Frederick Spencer John Kent, a tailor of Clifton House, Tackleway, Hastings, was found lying dead on the roadway in Rocks Road, Guestling, about noon on Whit Monday by PC Etteridge of the County Police. Deceased, who was aged 67, was a very active man and fond of taking long walks into the country. He left home on Monday at 9 o'clock. Dr A. H. Huckle of Hastings, who passed the deceased on the road shortly before he was found by the constable, attributed death to heart failure. The facts were reported to the Coroner for the Rape of Hastings (Mr C. Shepherd of Battle) who decided an inquest was unnecessary.'
In 1905 Herbert married Rhoda Matilda Streeter, a local girl. By 1911 they were living in Croydon. Herbert was still a compositor and they had two daughters, Ivy Rhoda (aged 5, born Redhill) and Eileen Mary (aged 10 months, born Croydon). His wife seems never to have remarried after his death, as a Rhoda M. Kent died at the age of 82 in Hastings in 1963.