Friends
Of
Hastings
Cemetery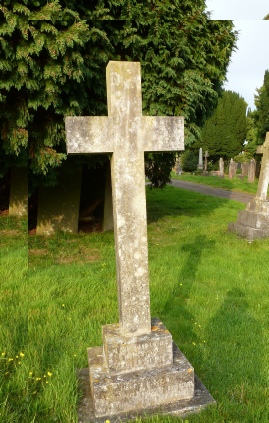 DD M36
James Lake
Fanny Lake
Eustace Lake
Geoffrey Lake
Frank Gilbert Lake
James Lake (born 1839 at Milton nr Canterbury) first appeared on the 1881 Census for Minster, in Kent, as a farmer of Sheriff's Court Farm. He was already married to Frances Freeman who was born in 1841 in Pottersbury. They had one daughter and three sons, including 10 month old twins, Geoffrey and Bernard. The family were still living t the farm in 1891, when James is described as a hop and fruit grower. There were 6 children at home and Frank and Bernard were at school in Margate. James employed 14 men and boys on his farm.
In all 10 children were born into the family, 9 of whom were still living in 1911. James died on 11th December 1896 at the age of 57, in Hastings. His fourth son Eustace had predeceased him, dying in India on 31st March 1898 at the
age of 25.
There seems to be no mention of any of the above in the 1901 census. Their eldest sister Grace had become a music teacher in a school in Folkestone. By 1911 Fanny was living at 107 London Road St Leonards on her own, Grace was teaching at a private school in Eastbourne and Frank was living in St Albans and working as a clerk for a Produce Broker. Fanny died on 2nd February 1912 at the age of 70.