FA D25
In
Loving Memory of
My Dear Husband
William Long
Who fell asleep in Jesus
Feby 12th 1890 aged 49
---- John v. 24. -----
He fought with bravery through the
Crimean War and was awarded three
medals and two bars
Also Harry George
His eldest son
Who died Jany 31st 1898
Aged 30
Wash me in my Saviour's Blood and take my sins away
Also Annie Louise
Wife of Harry George Long
Who died Feby 21st 1947
Aged 78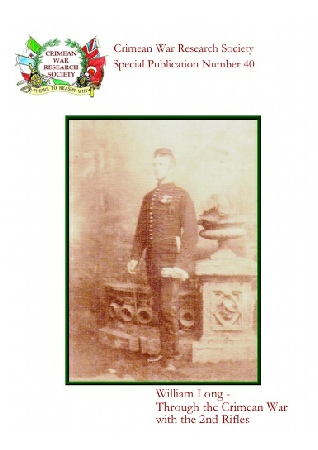 Through the Crimean War with the 2nd Rifles by William Long
Extract from the Introductory Notes by Pamela Haines
Private 3594 William Long (1834-1890), wrote his paper in the year 1851
William, the son of lames and Susannah of Faringdon, Berks (now Oxon) was baptised at All Saints, Faringdon in 1834. He enlisted in the army in the Reading District in 1853 and then he embarked at Portsmouth on the "Lukan"[?], bound for Malta in February 1854 and thence sailed to the Crimea ln the "Golden Fleece". When he joined the army (there is some confusion about his age here, records state he was 17 but if baptised in 1834 he must have been 19) he was, in his own words, "rash and thoughtless and ready for anything." Little wonder then that his father James Long of 'Witney, Oxon regarded his decision to join the armv as his greatest mistake. But whilst so many of his comrades were never to return from the war, William was fortunate to survive unscathed, which strongly reaffirmed his religious convictions.
William was deeply affected by the death of a comrade recorded as killed in action on 4 May 1855. This tragic event he attributed to the influence of intoxicating drink and it is clear from the concluding paragraphs of his paper that he wholly supported the aims of the National Temperance League.
…………..
William left the rifles on 17 October 1856. He received the Crimean Medal with three clasps, and the Turkish Medal.
He married Harriet Berry in 1866 and died on 12th February 1890.
He is buried at Hastings Cemetery and his headstone contains two errors - his age, given as 49 when he must have been 56 and the fact that he received three clasps for his Crimean Medal, it says he received two. [It also says he received 3 medals.]
I [Pamela Haines] inherited the manuscript from my father, Leonard Leslie Long, who received it from my great-aunt Emily, William Long's daughter. It contains 37 copperplate hands, written foolscap pages.
___________________________________________________
Harriet Long, his wife, died, aged 84 and was buried 22 November 1922 at MB L21.