Friends of Hastings Cemetery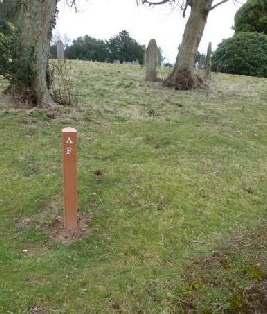 AF B02
Lutwidge Charlotte Menella, died aged 50, in 1857 - Of no. 2 Wellington Sq, made a career of charity work, died 1857, much regretted.
Lutwidge Margaret Anne, aged 60 in 1869 - The Rev. Henry Nussey, who had been a curate to Charles, proposed to Charlotte Bronte almost immediately after having had a refusal from Margaret. He wrote in his diary "...received a decisive reply from M.A.L's papa. A loss, but I trust a providential one. (Charlotte also turned him down!)
Lutwidge Henrietta Mary, died aged 61, in 1872
They are buried at AF B02 but their memorial no longer exists.
"Major Charles and Elizabeth Lutwidge's unmarried daughters, The Misses Charlotte Menella Lutwidge, Margaret Anne Lutwidge and Henrietta Mary Lutwidge [who wrote devotional works for children] lived at 2 Wellington Square.
In Memoriam notice for Miss Henrietta Mary Lutwidge -
On Wednesday morning died one of the most pious and useful ladies that ever helped the religious and philanthropic institutions of Hastings. Miss Henrietta Mary Lutwidge whose severe illness we mentioned last week, has left many posts of honourable labour vacant by her lamented death. As secretary, treasurer, collector, or indefatigable helper in some other way all the parochial charities of St Mary-in-the-Castle, and many of the branches of national societies, have for many years had the benefit of her devoted work.
Her entire life had been spent in doing good; and no higher praise than this can be given to any human being. The Sunday and Day schools of the parish in which institutions she passed much of the time will especially miss her; and the local auxiliaries to the Church Missionary, the Pastoral Aid, the Irish Church Mission and other societies will feel the want of her methodical and zealous arrangements. Without the least apparent consciousness of doing anything praiseworthy, she was in the habit of giving every hour of every day to various works of benevolence.; a sister of Mercy in the highest sense,- the friend and helper of the poorest and lowest.
The work of the church and world will go on, let who will die; but it will probably require many workers to fulfil so well all the duties which Miss Lutwidge with fatal self denial, imposed on herself. In a town and parish conspicuous for the number of its Christian philanthropists, Henrietta Lutwidge ranked among the best; and as such her memory will be held in honour by thousands.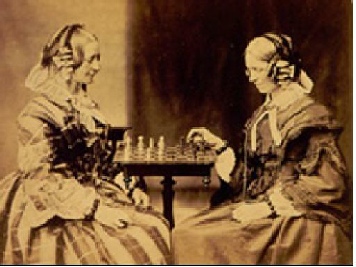 _______________________________
During Lewis Carroll's early college life he would often spend a few days at Hastings, with his Aunts. In a letter written from their house to his sister Mary, and dated April 11th 1860, he gives an account of a lecture he had heard on the Arctic. He was a keen visitor to the Literary and Philosophical Society in Hastings.
Lewis Carroll's Diary for March, 1885, has this entry:
March 1st.—Sent off two letters of literary importance, one to Mrs. Hargreaves, to ask her consent to my publishing the original MS. of "Alice" in facsimile (the idea occurred to me the other day); the other to Mr. H. Furniss, a very clever illustrator in Punch, asking if he is open to proposals to draw pictures for me.
Harry Furniss agreed.
Margaret and Henrietta at 2 Wellington Place, photo by Charles |Lutwidge Dodgson