Friends of Hastings Cemetery

Ernest James MacDonald was born in Regents Park, London in 1842. His father was a professor of music who had been born in the East Indies. His mother Catherine Laura was from Kilkenny, Ireland. He married Julia Jennings in 1866 at St George's Hanover Square, London after his return from India. They went on to have 9 children, 7 of whom were still living in 1911. Presumably they led a typical army life as his eldest three children were born in Jabbulpore, Devonport and Clapham respectively! In 1871 he was living in Newport, Monmouthshire.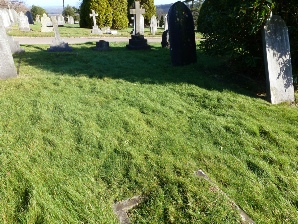 KB C06
This is the area in which Ernest James MacDonald is buried. There is little or no indication of the actual spot.
After he left the army in 1874 the family lived in Southport, Lancashire for several years where two more children were born, and where his wife and children were recorded in the 1881 as living at 57 Portland St, North Meols (Ormskirk). His youngest surviving child Julia was born in Shalford, Essex in 1883. The family had settled in Brighton by 1891 at 79 Rose Hill Terrace where he was described as a professor of music. His oldest son Hugh was a shorthand clerk, his two oldest daughters Edith and Gertrude were dressmakers and his next son, Albert, was a musician. The other three children were still at school.
Thereafter Ernest disappears from the censuses. Julia continued to live in Rose Hill Terrace, in 1901 with Hugh and Julia and in 1911 with Edith, Gertrude (now married but boarding with her mother) and Gertrude's daughter, Constance Knight who was born in Hastings in 1899.
"Julia of 215 Preston Road, Preston, Brighton, widow of Ernest James MacDonald, army bandmaster; 80; heart failure following shock caused by a fall on 9 Aug; accidental death" (National Archives)
So it is unclear at what point Ernest MacDonald moved to Hastings although according to his obituary he was obviously well known locally through his music and giving concerts on the Pier and he was living in Devonshire Rd at the time of his death. (See also George Monger, who was a drummer boy with the Royal Welsh Fusiliers, and won the V. C. at Lucknow)
Some of his compositions are:
The Coursers Galop, etc. [P. F.] by Ernest James Macdonald (1890)

Fantasia on American Airs. [Clarinet and P. F.] by Ernest James Macdonald (1882)

Fantasia on British Army Airs. [Clarinet and P. F.] by Ernest James Macdonald (1883)

Fantasia on British Navy Airs, etc. [Clarinet and P. F.] by Ernest James Macdonald (1883)

Fantasia on Scotch Airs. [Clarinet and P. F.] by Ernest James Macdonald (1882)

Gipsy Girl quick march. [Reed band parts.] by Ernest James Macdonald (1882)

Lalla Rookh. Romanza for voice, harp & violin, or voice, piano & clarinet, words by the Marquis de Leuville by Ernest James Macdonald (1892)

A set of 4 Clarinette solos with variations on national melodies by Ernest James Macdonald (1880)

Sweet Rostrevor. Song, words by J. Lowe by Ernest James Macdonald (1897)