Then, in the summer of 1888, he fell in love with Miss Annie Clementina Dewar, the daughter of a minister of the Church of England. Armstrong, who was violently opposed to Makalua's marriage at this time, described Miss Dewar as considerably Makalua's senior in years, adding that she had a dowry of 150 pounds per annum which could not support a household and Makalua's education. Armstrong reprimanded Makalua and asserted that he would not provide any Hawaiian funds if the marriage took place before the couple had the permission of the Hawaiian government.
Annie's father, Reverend David E. Dewar, wrote to the Hawaiian Minister of Foreign Affairs to prevail upon him to telegraph permission for the marriage, stating that his daughter's health was failing due to the postponement. When permission for Makalua to marry finally arrived in London on September 2, 1888, Makalua and Miss Dewar had already wed. Perhaps feeling remorse for disobeying Armstrong, Makalua wrote to assure the Hawaiian government that he had every intention of returning to Hawaii as soon as he earned his diploma.
Makalua earned two prizes for Hygiene and Medical Sanitation as well as the First Certificate of Honour for "Medical Jurisprudence" for the year 1888-1880. Makalua announced the birth of his son on August 8, 1890. He described the child as "the jolliest parcel of humanity I have ever seen." In the same letter, he applauded Manley Hopkins for his "extreme kindness" during the years Makalua had been in London. Makalua ended by acknowledging a letter Hopkins had received from the new Minister of Foreign Affairs, Jon Austin, stating that "as soon as Makalua has passed his examination in January of 1891 he must at once return to the Sandwich Islands." In December of 1890, Makalua asked for an extension of his time in London until July 1891, confessing he had failed his examination and would not be able to repeat it until June.
Makalua's last communique, written in January 1891, expressed "his extreme regret over His Majesty's death from Bright's disease in San Francisco." Makalua ended with the comment that he had only one more examination, in Surgery, and he would be through with his studies in July 1891.
Mathew Makalua continued to receive stipends from the Hawaiian government until March of 1894, when he secured medical employment at Hastings, England. From 1898 - 1927 his address was 37 Pevensey Road. Makalua never returned to Hawaii, although the Hawaiian government set aside funds for his passage should he ever decide to return home.
He died in St. Leonards on 31st December 1928.
(Adapted from AGNES QUIGG - Kalakaua's Hawaiian Studies Abroad Program : The Hawaiian Journal of History 22(1988):1 70-209. 96 - available online as pdf.)
Dr. & Mrs. Makalua led an active social life in Hastings, as evidenced by numerous entries in the social pages of HSLO. He was also a keen golfer, and took part in amateur dramatics and was a well known singer at concerts and other fund-raising events.
Dr. Matthew Everard Puakahakoililanimanuia Makalua was the son of Manuia Makalua and Kaipoleimanu Kahoohanohano Makalua. He married Annie Clementina Dewar, daughter of Reverend David Erskine Dewar and Elizabeth Ann Fane Parry, on 27 August 1888. He died on 31 December 1928.
He was registered as a Licentiate, Royal College of Physicians, London (L.R.C.P.). He was registered as a Member, Royal College of Surgeons (M.R.C.S.).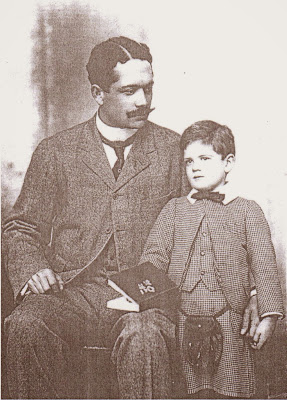 Child of Dr. Matthew Everard Puakahakoililanimanuia Makalua and Annie Clementina Dewar
1. Major Matthew James Manuia Dewar b. 8 Aug 1890, d. 23 Nov 1952
Major Matthew James Manuia Dewar was born on 8 August 1890. He married Marjorie Harriet Beaman, daughter of Surgn.-Gen. Ardern Hulme Beaman, on 5 April 1915.
He was given the name of Matthew James Manuia Makalua at birth. He was educated at Oratory School, Woodcote, Edgbaston, Warwickshire, England.
He gained the rank of Major in the service of the Royal Sussex Regiment. He fought in the First World War, where he was wounded in 1916. He was decorated with the award of the Croix de Guerre (avec palmes). He was Officer, Order of the British Empire (O.B.E.) in 1919. On 1 August 1930 his name was legally changed to Matthew James Manuia Dewar. He fought in the Second World War, with the Royal Engineers. He was with the Publicity and PRO, British Western Region. He died on 23 November 1952 at age 62.
Leonard Scrivens, a notable Hastings resident, knew Dr Makalua and one day he was riding in a bus with Dr. Makalua's nephew also a Doctor, and asked him if he was going to come down and take over the practice, and the nephew said "Good heavens, no, my uncle doesn't get all his patients to pay him and will treat some free!"
An odd tale, based on a wong assumption: An article suggesting he was son of Mark Twain - http://the.honoluluadvertiser.com/article/2005/Jan/02/ln/ln45pbob.html
Hastings and St Leonards Observer - Saturday 05 January 1929
FOUNDER OF A.O.D. TINFOIL COT SCHEME.
DR. MATTHEW MAKALUA.
…................ The following letter, was addressed to all the men of the L.G.O.C. Friendly Society:— You will deeply regret to hear the death of Doctor Makalua. who passed away his residence at 30, Warrior-square, St. Lconards-on-Sea to-day.
In his demise the Society has lost a great friend and one who was held in the highest esteem by all who knew him. The charming manner which always characterised his never tiring attention and advice to the patients at the Convalescent Home, will for all time remain a memory in the history Caple-ne- Ferne
I have sent a wreath on behalf of this Society as a last tribute of our affection for our old friend and doctor, and I have conveyed our condolences to the relatives in their sad bereavement. W. VINCENT COOKE. General Secretary.
The funeral was yesterday (Friday) at St. Mary Magdalen Church, the first part the service being conducted bv the Rector Rev. P. Gordon Duff), assisted by the Rev. H. C. L. The immediate mourners were Major and Mrs. James Makalua and Mrs. H. S. Colt.