Friends of Hastings Cemetery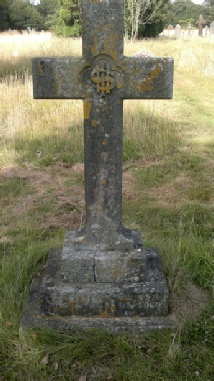 DE U17
Rosa Marsden, daughter of James Loftus Marsden, died of poisoning (accidentally taken?) in December 1877, aged 34.
Hastings and St Leonards Observer - Saturday 29 December 1877
SAD CASE OF POISONING. An inquest was held at the Norman Hotel, St. Leonards, on Saturday evening last, on the body of Rosa Marsden, maiden lady, lately residing at St. Margarets-terrace. Mr. Dean was chosen foreman of the jury. Richard Heath said—lam a surgeon, practising at 16, Warrior-square. I was called about halfpast ten on Thursday night to see the deceased, at No. 1, St.- Margaret's - terrace. I saw deceased in her dressing gown. Her sister told me that she (deceased) had taken a dose of bad medicine. I asked what the medicine was, and deceased told me it was medicine which was made up some time ago for indigestion, but it had gone bad. I examined deceased. She was perfectly conscious. There was no perceptible pulse at the wrist. The extremities were cold, and the pupils widely dilated. She was writhing though in pain. I asked her if she was in pain; she said, No ; but I feel so dreadful." I told her she was suffering from a
poison of some kind or other, and asked to see the bottle. The servant gave me this (bottle produced). I asked Marsden if she was perfectly sure this was the bottle her sister took the medicine out of? Both she and deceased said they were quite certain that it was the bottle. I asked the sister how much she had taken, and she said she thought she had taken double dose, which would be two ounces. smelt and tasted it, and told them it was belladonna liniment. The directions on the bottle are as follows, "The mixture. A sixth part to taken every four hours if necessary. Miss R. Marsden. [.1 F. J. Andrews (late Flint and Andrews), Dispensing Chemist, and 38, Pevensey Road, Eastbourne. Shake the bottle.
I questioned them very closely as to how the liniment came into the bottle, and at first they could give explanation, but afterwards the younger sister, in the presence the deceased, said that she remembered getting a bottle of liniment. The neck the bottle got broken, and she poured it into this bottle from the broken one, trusting to remember the change. No one could tell me when the liniment was put into the bottle, but it some months ago. I asked for the bottle and the prescription, but neither was forthcoming. She did not tell me from what chemist she got the liniment. I applied the usual remedies, and remained with the deceased till about a quarter past four. She got a little better, anil the pulse liecame perceptible. At nine o'clock she was to all appearance quite rid of the poison. At one o'clock her lungs were beginning to become affected. Al seven o'clock the symptoms were worse, and the pulse failing. At ten o'clock she was so bad that I warned them of her approaching end. She died at half-past eleven. I did not think a post mortem examination necessary. It is my opinion that she died from taking belladonna............... Emily Marsden said I am deceased's sister, deceased was thirty-four years of age. I resided with my step-mother. l
Alice Marsden - I reside at No. 1, St.Margarets-terrace. I have done so since October. In May last we resided at 1 Plynlimmon-terrace.