Friends of Hastings Cemetery

DE U17
Dr. James Loftus Marsden died at Clive Vale on the 6th February 1891, aged 75. He was interred in his daughter's grave.
Dr James Loftus Marsden MD (1815-1891), born Dublin, was the son of Captain James Marsden 7th Dragoon Guards and Worcestershire-born Harriett Long, the daughter of an attorney.
In 1838 he married Lucy Frances Rashdall and about 1846 he moved with his family to Malvern to work with water-cure Doctor James Manby Gully[Photo Credit: Wellcome Library, London]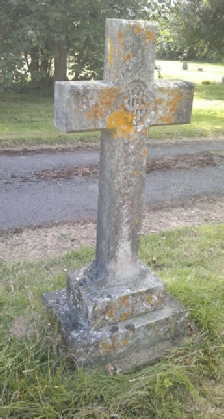 They had five daughters and a son. Tragically his wife Lucy Marsden died in childbirth in 1847 and she was buried in the churchyard of Great Malvern Priory.
When he was about to remarry in 1852, Marsden sent his five daughters to Paris with their governess, Celestine Doudet. Two
of the girls died in 1853 and Doudet faced two sensational trials. She was found guilty of manslaughter. [The Water Doctor's Daughters By Pauline Conolly]
He and his second wife Mary (Mary Lyon Campbell) had a daughter Isabella who died unmarried in 1887 aged 33 years. He had another daughter with his mistress Sabina Amanda Welch, Ellen Amy, born in 1879. None of his children married and his daughter Rosa also died a tragic death. http://123-mcc.com/other_history_water_doctors.htm#Dr James Loftus Marsden
THE LONDON GAZETTE, NOVEMBER 6, 1860. - Worcestershire Rifle Volunteers.
llth Company.
James Loftus Marsden, Esq., to be Captain.
Royal Society of Medicine - Proceedings - The Water Cure Doctors of Malvern.....
J. L. Marsden.-Before long another water doctor appeared in the person of James Loftus Marsden, a practitioner of Exeter, who had been converted to homoeopathy after his only son had recovered from typhus complicated by "water in the brain and inflammation of its base". Marsden spent five months with Priessnitz (probably in the autumn and winter of 1845-46) and then accepted an invitation from Gully to join him in partnership for a limited period. He settled at Hardwicke House.[Malvern] He was a prodigious worker. .............Marsden moved to London.... [http://europepmc.org/backend/ptpmcrender.fcgi?accid=PMC1918458&blobtype=pdf]
The action of the mind on the body

: a lecture delivered to the Gt. Malvern Mechanics' Institute by James Loftus Marsden

Notes on homoeopathy

by James Loftus Marsden