Friends of Hastings Cemetery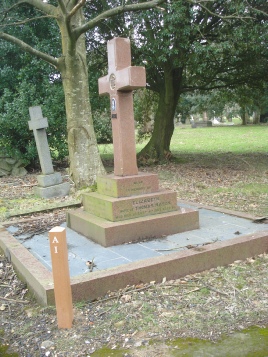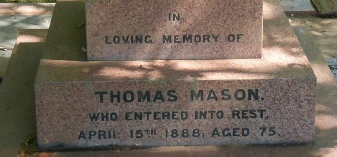 AI L01 - Thomas Mason 1813 – 1888 : Elizabeth Mason 1826-1907
1891 July 16 - Consecration of the new All Souls Church, Athelstan Road, built in memory of Thomas Mason by his widow Elizabeth Mason. Its foundation stone was laid on November 2 1889. All Souls Church, Clive Vale, described as one of the best works by prolific ecclesiastical architect Arthur Blomfield.
Just before her death Elizabeth funded a new children's ward at the Buchanan Hospital which was named after her. It was described as "one of the finest on the South Coast" and it was decorated with Doulton tiles depicting nursery rhymes which you can see in the picture and were moved to the Conquest hospital on an unfrequented staircase, when the Buchanan closed in 1997.
September 27, 1908
A stained window was unveiled at All Souls Church, Athelstan Road, in memory of Mrs Elizabeth Mason, foundress of the church. [The church closed in the autumn of 2007.]
https://sussexparishchurches.org/church/all-souls-athelstan-road/
The Mason grave was renovated by the Greek Orthodox Church, in 2011, as thanks for Elizabeth Mason's will having provided for the for the erection of a new church, hall, and vicarage in the north-eastern London area. This became the Church of St Martin.
According to one record at one stage the church served both the local Anglican and Greek Orthodox communities, one in the morning and one in the afternoon.
It later became purely Greek Orthodox and is known as St. Demetrius.
"The church of ST. MARTIN began as a mission in 1900 in an iron church in Town Road. A consolidated chapelry, in the patronage of the bishop of London, was formed from the parishes of All Saints and St. Mary in 1911. The iron church was attended in 1903 by 109 people in the morning and 163 in the evening. Money bequeathed by Miss[sic] Elizabeth Mason (d. 1909 [sic]) for the erection of a new church, hall, and vicarage in the north-eastern London area, was allotted to St. Martin's, then described as a poor district. The church was consecrated in 1911, when the hall and vicarage were also completed."
Pevsner & Cherry - The Buildings of England : London 4: North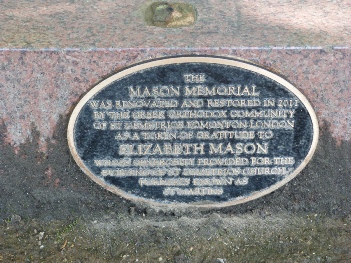 Hastings and St Leonards Observer - Saturday 21 July 1888
A Local Will
By his will, dated 15th May. 1875, Thomas Mason, formerly a partner in the firm Dent, Allcroft and Co., of Woodstreet, Cheapside, but late of Lynwood, St. Leonards-on-Sea, bequeathed £15,000 each to his sister, Mrs. Lucy Hickman, of Camden-road, and his brother, Matthew Mason, of Doughty -street: £1.000 each to Ellen Avery, of Toxel Heath, John Vincent Coley, of Brignorth, and Henry Coley, in Australia; and devised all hia real estate and bequeathed the residue of his personal eatate to his wife, Mrs. Elizabeth Mason, whom he appointed sole executrix of his will, and by whom the value of the personalty has been declared for probate at £ll8,305 9s. Bd.