Friends of Hastings Cemetery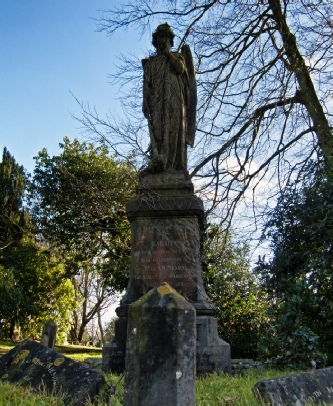 CA A01
In Loving Memory
Of
Harriet
For over 50 years devoted
wife and companion of William Meads,
of "The Gables", St. Leonards-on-Sea.
And of William Meads who died on his 84th birthday
A pioneer of Bexhill on Sea an Ex Councillor of the Borough of Hastings
The monument features a mounting angel with an extinguish torch.
Born in Henley-on-Thames in 1855, William Meads came to St. Leonards with his wife Harriet for theirt honeymoon in 1877 and took up his residence there the same year.
In the 1881 census he is listed in St Leonards as a lodging house keeper, with Harriet and two children, Grace and William.
In 1891 he is listed at 43 West Hill, and is a dentist.
MEADS William Head M M 36 Dentist(Em'er) Oxfordshire - Henley
MEADS Harriett Wife M F 41 Lincolnshire - Bordeny
MEADS Grace M C Dau - F 12 Sussex - St Leonards
MEADS William E Son - M 11 Sussex - St Leonards
MEADS Helena A Dau - F 8 Sussex - St Leonards
MEADS Frederic E K Son - M 5 Sussex - St Leonards
CADD Edith Servnt S F 28 Lady's Maid Frieston Heath Lincs.
BUSS Emily J Servnt S F 20 Housemaid Sussex - Brightling
HUME Jessie A Servnt S F 17 Kitchenmaid Scotland
William Meads was associated with Bexhill in the early days of its development as a modern seaside resort. A dentist by profession, he was an assistant to the late Mr. Dickinson and, in 1896. he moved to Bexhill, where he built The Turret, Sea-road, and established a practice there. In 1901 he was joined by his elder son, Mr. W. Edward Meads, who afterwards took over the practice. [They feature in The growth of general dental practice in a developing Sussex seaside resort 1885-1916 two articles

by
Paul Hellyer]
William built the Wilton Court Hotel at Bexhill, and later the residential flats adjoining. Before his death he became a member of the Hotels' Association and addressed one of their meetings on the importance of maintaining progressive policy.
He returned to St. Leonards in 1908. For many years he had a surgery at 1, Pevensey-road, retiring about eight years ago. [1939]
Hastings and St Leonards Observer - Saturday 05 July 1913
COUNCILLOR MEADS' GIFT TO THE TOWN
Councillor Meads deserves the hearty thanks of the town, particularly those inhabitants who live the neighbourhood of St. Leonards, for the gift of the piece of land at the corner of Silchester and Pevensey-roads. as reported by the Corporation at. yesterday's meeting. All the Councillor asks is that the work of carrying out the great improvement

which will be effected by the rounding the corner of the two roads shall paid for the by the Council, a condition to which nobody can take exception. To secure such an improvement for the sum of £5O is a remarkably good thing for the town. One can only hope that other owners of land in the borough will see their way emulate the public-spirited example set by Councillor Meads.
Over the years William wrote many letters to the Observer, often in the interests of St Leonards, sometimes arousing contention. In 1922 he and his wife took part in the "Hastings Flitch" (based on the Dunmow Flitch.) However the Flitch was won by their opponents, Mr & Mrs. Weller. The Meads received a smoked ham. (The Hastings Flitch, staged members of the Hastings Players (from one of many Observer references) suggests the the Meads participated in amateur dramatics: Another comment - The outstanding event the fete was the competition for the Hastings Flitch, which is described elsewhere in these columns.) There is a long account of the "trial" in the Observer, 12th August 1922, page 5)