Harriet died two years after they had celebrated their golden wedding in 1927.
Hastings and St Leonards Observer - Saturday 16 February 1929
DEATH OF MRS. MEADS.- Wife of Ex-Hastings Town Councillor
Much sympathy has been expressed to ex-Councillor Meads upon the death of his wife last Saturday night at "The Gables" Quarry Hill, St. Leonards.
Although of a retiring nature, Mrs. Meads had a large number of friends. She was in many ways a remarkable lady, and although 81 years of age had enjoyed excellent health until about last July. Three daughters and two sons are left to share their father's sorrow. One daughter married Councillor Sewell, the proprietor of the Devonshire Hotel. who has had the distinction of being Mayor of that town. The eldest son is a dentist at Bexhill, and his wife is a member of the Battle Board of Guardians. Miss Meads is well-known for her active association with the Hastings and St. Leonards Habitation of the Primrose League.
The late Mrs. Meads was shipwrecked on the banks of Newfoundland seventy-five ago, when on her way to Canada with her parents. Her father had taken up work under the late Mr. Thomas (father the first Lord Brassey) in the building of the Great Victoria Bridge over the River St. Lawrence, ….. Mrs. Meads had travelled much in France, Belgium, Ireland, and, having a remarkable memory could relate many interesting stories of Canadian life in her early days, such as skating, hunting the beaver, and tapping the Maple tree for sugar. She also witnessed the return of the troops and rejoicings in Canada after the Crimean War. She could claim to be one of the oldest residents in St. Leonards, having resided there for over fifty-two years….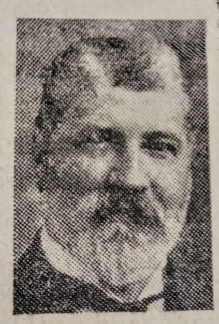 William died on his birthday in 1939.
Hastings and St Leonards Observer - Saturday 11 March 1939
FORMER COUNCILLOR MR. W. MEADS - DEATH ON 84th BIRTHDAY
A former member the Hastings Town Council, Mr. William Meads, of The Gables, Quarry-hill, St. Leonards, died on Sunday, which was his 84th birthday and also his wedding anniversary. He had been ill for about nine months. Mr. Meads had connections with both Hastings and Bexhlil. Born in Henley-on-Thames in 1855, he came to St. Leonards for his honeymoon in 1877 and took up his residence there the same year. For a number of years he represented the St. Leonards Ward on the Town Council, and took a prominent part in other public activities.
He was one of the old Harbour Commissioners, had been president of the St. Mary Magdalen Ward Committee Conservative Association, and at Christ Church, St. Leonards, he was sidesman over a long period…..