Friends of Hastings Cemetery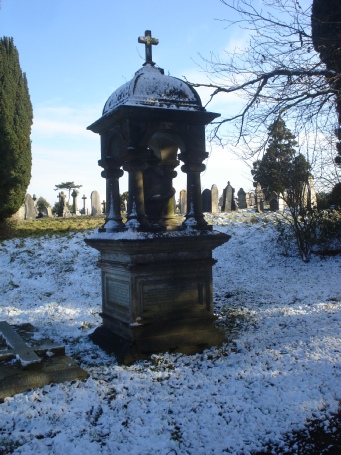 AW G13
Leah Fortrie Minet
Wife of Charles William Minet of Baldwyns Kent.
Born 27/08/1805, died 11/05/1871.
Daughter of the late Col. Randall Gossip of Thorp Arch Hall, Yorks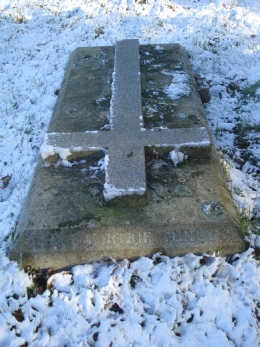 Delia Jane Minet
"Whose ashes are deposited beneath this memorial"
Youngest daughter of the late Charles William Minet of Baldwyns Kent & Leah Fortrie his wife.
Born at Frankfort on Main 05/07/1849, married 17/10/1871 to Orfeur George Parker Esq. Late 60th Rifles.
Died12/05/1900
Geraldine Helena Minet
Died12/05/1900
5th daughter of the late Charles W Minet
Born Pier house Dover 24/01/1842,
died at Cheltenham 01/12/1931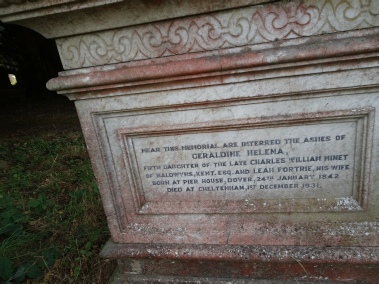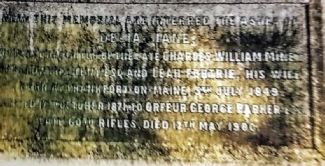 Leah Fortrie Minet was the daughter of Lieutenant-Col. Rendell Gossip and Leah Gossip.
She married Charles William Minet in April 1830 at Thorp Arch in Yorkshire. They moved to Italy, where their first child Fanny, Cecilia (known as Cecilia) was born in 1831.
Four daughters were born in Kent, the fourth being Geraldine Helena in 1842. Delia Jane was born in 1849 in Germany (as was another sister in 1846.) In 1860 Leah sued Charles for on the grounds of adultery, after which they lived apart.
Delia married Orfeur Parker in 1871; they had two sons, the first born in London, the second when they had moved to New Zealand. At some stage the family had moved to Victoria. In 1852, and I quote "Orfeur indulged in extra-marital relations, fathering another child in Melbourne and a further two in England. Apparently they remained married, but shortly after Delia's death in 1900 Orfeur remarried.
Geraldine arrived in Melbourne in 1888. John Butler Cooper in his history of St. Kilda, describes her as woman of means, and a newspaper report from 1895 noted that she was on an extended visit to relatives in South Yarra. The relative was her sister Delia.
In 1890 Geraldine purchased "Maybank" in South Yarra [click] and the sisters took up residence there. Geraldine purchased several other properties and a bookshop dealing in esoteric titles such as Astrology, Alchemy, Mysticism, Theosophy, Witchcraft……. Which probably leads us to the sisters interest inThe Austral Theosophist - The first issue noted "Up to the present, it has to be said, the criticism of Theosophy in Australasia has for the most part commenced with a slander, and ended with a sneer, and ignorance of what it is seems the principal qualification of those who have ventured to attack it." (Alfred Deakin, Australia's second Prime Minister, was a member of the Australian Society for some years.)
Annie Besant visited Australia and it was reported the result was the establishment of the Ibis Lodge at 8 Garden-street, South Yarra. A roll of about forty members, with a library of 400 volumes, available all day is a good beginning... The branch is indebted to the President (Mrs. Parker, (Delia) for the energy and liberality with which she more than fulfils the duty of the office.
Concurrent with Geraldine's bookstore and Theosophical Society involvements, she was apparently involved with a spirit- guided coal venture