Friends of Hastings Cemetery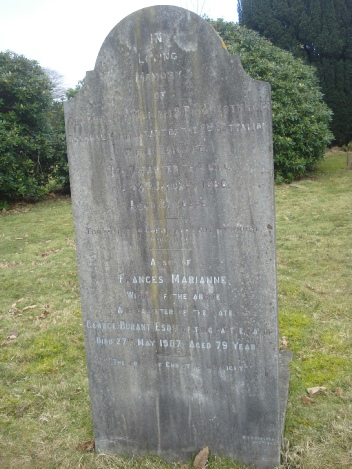 In
Loving
Memory
of
General Sir William S B Norcott KGB
Colonel Cmndt. of the Second Battalion
Rifle Brigade
Who departed this life
The 23rd January 1886
Aged 81 years
'For in Thee O Lord, have I put my trust'
Psalm 31
—–-—––––––––––-—––
Also of
Frances Marianne,
Widow of the Above
And Daughter of the late
Lord Durant Esq. of Tong Castle, Salop
Died 27th May 1907, Aged 79 Years
'The cross of Christ is my light.'
William Sherbrooke Ramsey Norcott was born on 12 December 1804 in Chelmsford Essex, the second son of General Sir Amos Godsell Robert Norcott CB KCH who had commanded a battalion of the 95th Rifles at the Battle of Waterloo and Elizabeth Noble.
William married Frances Marianne Durant on 4 July 1848 in Hove. She was born on 8th October 1827 in Brussels; her parents were George Stanton Eld Durant & Lucinda Saunders
Children
Charles Hawtrey Bruce Norcott, born 25 Apr 1849 in Quebec, Canada. He became a General of the Rifle Brigade.

Walter Gordon Norcott

, born in 1850 in Hove. Lt. Col in the British Army.

William Burgess Norcott. - On the 2d inst., at Brighton, at the residence of her mother, the wife of Major Norcott, Rifle Brigade, of a son. Morning Post - Saturday 06 August 1853. Marriage register of St Brelade's Church, Jersey, Channel Islands - entry for William Burgess Norcott, 24 and Deva Florence Inman, 21
Mabel Eliza Norcott

, born 1854. She married Charles Frank Pedley Jones, b. 1860.

Hilda Norcott – born 1858, Winchester. Died the same year.

Gerald Alfred Norcott, b. abt 1861, baptised 05 July 1860 in South Bersted, Sussex, England, d. 26 Feb 1917, buried in St Andrew's

Cemetery,

Newcastle, UK. His grave inscription reads:

"Sacred to the memory of Gerald Alfred Norcott major (retired) Royal North Lancashire Regt died February 26th 1917 aged 56 son of the late Genl Sir William Norcott KCB Christi crux est mea lux."

Adeline Ellen Norcott – born Cork, Ireland 1864, Married, Hastings July 1902, Ralph Charles Osborne Creagh, who died in 1904. In 1911 she married Philip Francis Ross Anley (who was born in Jersey).
"Major William Norcott's aim in keeping a journal during the Crimean War, to amuse his wife and to confide to her his fears and loneliness, reveals something of their relationship and of his experience of those years away from home." [Taken from The Rifle Brigade 1800 to c.1870: A Study of Social, Cultural and Religious Attitudes by Crosby, Anne Stevens; there are many examples of Sir William's virtues in this work.]
The diaries themselves are held at Hampshire Archives and Local Studies, Winchester, and in their blog you will find in an article by a volunteer, also showing Sir William's artwork.

"Sir William Norcott's Crimean War diaries. I don't think you can get much closer to these past moments than by, in this case, holding the small volume and going with him as it did, through the cold and cholera and other privations of the Crimea."