Friends of Hastings Cemetery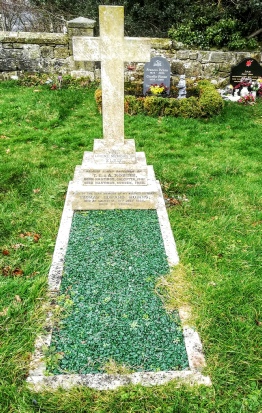 In
Loving Memory of
Elsie
Beloved eldest daughter of T. E. & A. Robins
Born in Hastings, Calcutta, 1901
Died Hastings, Sussex, 1923
Also to the dear memory of my beloved husband
Thomas Edward Robins,
Died at Calcutta, 13th July 1926,
Aged 53 years.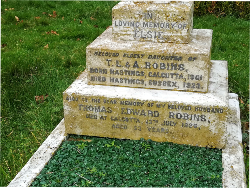 Also to the
Dear Memory
of
Our beloved Mother
Andrina Robins
Died 18th April 1958
Also our beloved sister
Kathleen Margaret
Died 12th March 1975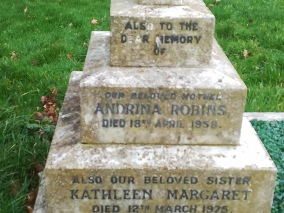 Together
Again
Hope 'Cuffa'
Robins
18. 2. 1922 - 6. 6. 2012
Edward Raymond
Robins
29. 9. 1913 - 17. 8. 1998.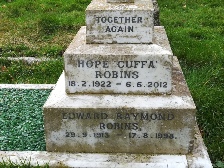 ROBINS Thomas Edward
(Burial Register the Scots' Cemetery Calcutta/Kolkata India)
[The cemetery is currently being surveyed and restored.]
Name Thomas Edwards[sic] Robins
Gender Male
Birth Date Jul 1873
Birthplace ST PIERRE PORT,GUERNSEY,CHANNEL ISLANDS
Census - Andrine[sic] Wells Female, aged 4, born Forfarshire, Scotland
Marriage
Event Date 21 Jan 1901
Event Place Kidderpore, Bengal, India
The rest of the story can be garnered from the following newspaper reports although it will be noted that it is reported that Thomas retired in 1919 and the family came to Hastings. As he died in India, in 1925 it seems more likely that he came with the family to bring Elsie, maybe to recuperate, as she was only 22 when she died, or perhaps to join family. (There have been Robins in Hastings for a long time.)
Hastings and St Leonards Observer - Saturday 26 April 1958 ROBINS.—On April 18th. 1958. at 47, Ashburn ham-road, Hastings. Andrina,widow of Thomas Edward Robins, Guernsey and Calcutta, and beloved mother of Kathleen and Edward
Hastings and St Leonards Observer - Saturday 03 May 1958
A. Robins - Mrs. Robins, of 47, Ashbunham-road. Hastings, the widow of Mr. Thomas Edward Robins, died on April 18. With her husband and family she came to Hastings in 1919, after many years in India.
Mrs Robins took an active part in various local organisations, particularly the Service Help for Motherhood and Infancy at the Central Clinic over a period of 30 years. She was appointed a member of the committee in 1931. During the last war. as a member of the W.V.S.. she will be remembered for the help she gave the Old Town Kitchen.
The funeral service was held at St. Clement's Church on Wednesday last week, the Rev. J. L, Napier (rector) officiating. Flowers were from Kathleen, Edward and Cuffa; Naomi and Diana: Artie; Emmeline and Nellie: Ethel. Dolly. Vie and family; ......…