Friends of Hastings Cemetery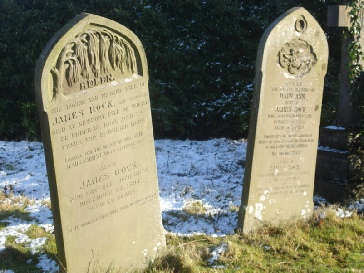 James Rock Senior
First Wife - Catherine Hawkins
Second Wife - Mary Ann Bury (Widow)
Here lie
The mortal remains of
Mary Ann
Wife of
James Rock
Who departed this life
October 14th 1861
Aged 76 Years
Simply resting on the unmerited
mercy of God through the atonement
of our Lord Jesus Christ.
'Her end was peace'
Also of James Rock
Who died November 8th 1866
Aged 75 Years
'Thou shalt guide me with thy counsel'
James Rock Junior
First Wife - Helen Reid
Second Wife – Sarah Ward
Helen
The Loving and beloved wife of
James Rock, the Younger
Died at Newport, Isle of Wight
December 18 1862, Aged 39
Years, and is buried here
'Looking for the mercy of our Lord Jesus Christ unto Eternal Life'
Also
James Rock
Who entered into rest
November 27, 1897
Aged 79 Years
'So He bringeth them unto their desired haven
And afterward receive me to glory.'
AR B13 and 14 - Headstones by Burchell.
James Rock was the fifth child of William and Lydia Rock, born in Chelsfield Kent, 1791; was apprenticed in 1803 as a blacksmith (his father's trade) to Gowar's coachbuilders in East London, where he married Catherine Hawkins in 1817; James jnr.was born in 1818, the only one of their three children to survive to adulthood. Catherine died in 1821.
The family moved to Hastings in 1822, and in 1823 he married a widow, Mary Anne Bury. James set up his business, recorded in 1828 as 'a coach manufactory consisting of a large front shop, workshop behind and a forge, with working loft over the whole', in the America Ground area, as a tenant of Thomas Breeds, at £52 p.a. James Rock therefore became one of those given a seven year lease, expiring in 1835, when the whole America Ground area was ordered to be cleared. By 1831, with his business flourishing, Rock became a freeman of Hastings, with 275 others, in a mass increase of the voting population.