Friends
Of
Hastings
Cemetery
George Roddis ED K01/02
In Loving Memory of
George Roddis
Who Died January 28th 1911
Aged 75 Years
Arthur Roddis
In Memory of Arthur Roddis,
Third son of George Roddis, Highclere, Hastings
Who died in London, February 27, 1901, Aged 25 (born 1875)
Margaret Elizabeth Roddis
In Memory of Margaret Elizabeth, daughter of the above, born in 1881, died 1957.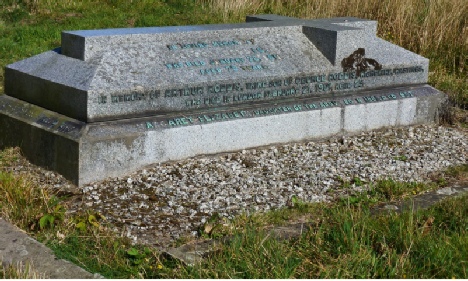 Robert Reginald Roddis died in Simla in 1902 age 24 and is buried in India born (born c1878)
As Arthur is the third son, (born in Market Harborough, like Robert) there are two older sons, as yet unidentified.
George Roddis, draper of 1-2 Robertson St, with Mr Plummer founded the Plummer Roddis department store chain. Where he was born is unclear as there is a different birthplace in all the censuses from 1851 onwards, the counties ranging from Northumberland through Northamptonshire to Hampshire.
However the dates and occupation of draper are consistent. His two sons were born in Market Harborough, and there is a listing for George Roddis as a draper there in the 1870's.
In 1864 he married Elizabeth Gillot in Sheffield. (Elizabeth died in Hastings, in 1923, aged 85.)