Friends of Hastings Cemetery


AS C28 / AS C29 / 30
In Loving Memory of
Patience, second daughter
of the late Thomas Ross
of Pelham Cottage
Died March 16th 1873, Aged 73 Years
Also
Elizabeth, wife of Alderman T. Ross
Died May 9th 1875, Aged 59 Years
Also
Alderman T Ross, Five Times Mayor of Hastings,
Died August 30th 1881. Aged 70
Also
Thomas George Ross of Tudor House, Hastings
Only son of the above
Died February 8th 1896, Aged 51
Also Hannah Ross, wife of the above
Died May 15th 1932 Aged
'Peace, perfect peace with loved ones far away'
Also Elliott Meurisse [?] Ross
1871 - 1953
'In the Presence of God is Fullness of Joy'
Also Georges Meurisse
Husband of Alice
1872 - 1959
R.I.P.
Also Renee Hannah Meurisse
Daughter of Alice & Georges
1900 - 1973
Also Raymond George Meurisse
son of Alice & Georges
1906 - 1987
Also Gertrude (Gay) Meurisse
Widow of Raymond
1907 - 2008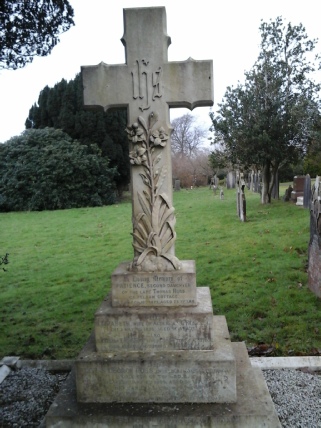 Thomas died in 1847, before the opening of the Borough Cemetery. He was the father of Patience and Thomas. Master Gunner Ross, came to Hastings about 1800 to take up command of the Coastguard Station at what was then known as "Government House". He later built Pelham Cottage.
Patience named on the memorial, is the daughter of the above, and sister to Alderman Thomas. She was born on 3 July 1799, in Stoke Damerel, Plymouth, the second of six children.
Elizabeth Ross (nee Bird) born 23rd August 1816 in Newington, Surrey. She married Thomas Ross in Kennington on the 16th March, 1843. They had one child, Thomas George Ross.
Thomas, the fifth of the six children born to Gunner T Ross and Patience, was born on the 2nd March 1810, in Hastings. Three years before his death he was featured in Hastings and St Leonards Observer on 7th December 1878.