Friends
Of
Hastings
Cemetery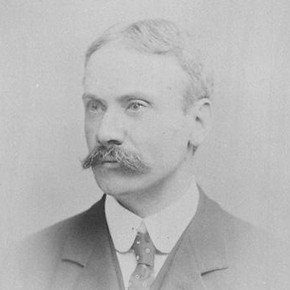 BK F01 Arthur Banks Skinner BA FSA
His Father was George Edward Skinner, died 1888, his Mother was Annie Simpson Banks 1834 -1918.
Arthur Banks Skinner was Director of the Victoria and Albert Museum from 1905 - 8, he had joined the Museum in 1879, (then South Kensington Museum) having previously been Keeper of the Art Collections and Assistant Director since 1896.
New York Times, 15 October 1905.
To fill the post of Director of the Victoria and Albert Museum at South Kensington vacated by Sir Caspar Purdon Clarke, an officer has been promoted who has been Assistant Director since 1896. This is Mr Arthur Banks Skinner, who joined the museum in 1879. He is an old and trusted employer of the South Kensington and will continue the policy of the museum as it is now administered.
He was Director of the V&A from 1905 to 1908, until he was replaced by Sir Cecil Smith, who directed the museum until 1924. Skinner was relegated to Keeper of the Department of Architecture and Sculpture.

(Magpies, squirrels and thieves: how the Victorians collected the world : Yallop, Jacqueline. pp.116-117) - "The works were being assessed and arranged by the museum's Assistant director, Arthur Banks Skinner, who had climbed through the ranks during his twenty years at South Kensington. Robinson
had written the display labels......Skinner, however, whose 'knowledge of works of art was singularly wide and accurate' and who 'enjoyed the confidence and esteem of many foreign collectors and heads of museums', had his reservations.....................