Friends of Hastings Cemetery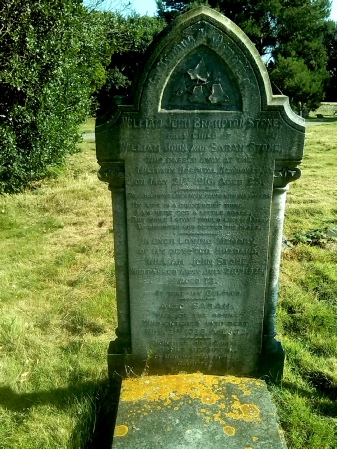 EM D01
Also CWG Screen Wall. E. M. D1.
In Loving Memory of
William John Brampton Stone
Only Child of
William John and Sarah Stone
Who Passed Away at the Military Hospital Newhaven
on May 31 1916
……….
In Loving Memory of My Devoted Husband,
William John Stone,
Who Passed Away July 28th, 1926
Aged 73
At Rest My Beloved
Also Sarah
Wife of the Above
Who Entered into Rest
Nov. 21st 1929. Aged 72
Daughter of the Late
James Brancton
of Northamptonshire
"Reunited.
Included on the inscription on the stone is "The Following Lines Were Found with His Papers.
My Life is a Brief, Brief Thing,
I am Here for a Little Space
But While I Stay I would Like If I May
To Brighten and Better the Place
He was a Private with the Royal Sussex Regiment, aged 23 when he died.
He was the son of William John and Sarah Stone, (also recorded on the tomb) of 138, Braybrooke Rd., Hastings