Friends of Hastings Cemetery

BJ I01
Herbert Slade Strickland
Francis and Jane Strickland
Herbert Strickland was born 10th February 1885.
On 14th June 1915 he married Lilian F. Broad in London. Their son, Malcolm Herbert Francis, was born on April 1, 1916. In August 1922 Lilian married Herbert's brother William, who died in 1969, They are both remembered on the grave.
His father Francis was a corn merchant. Herbert seems to have had no part in the family business. Educated at Mill Hill School in London from 1899, he went on to qualify as a solicitor with practices in Hastings and Eastbourne.
He was a temporary sub-lieutenant in the Royal Naval Volunteer reserve. He was gazetted a temporary sub-lieutenant in June 1915 and for a while was based at Blandford Camp as assistant adjutant with a reserve battalion.
In 1916 he served with the Mediterranean Expeditionary Force (MEF) based on Mudros, and was then sent to France where he was assigned to the Nelson Battalion but in May 1917 he was sent home with inflammation of the connective tissue (ICT) in his left foot.
After a period of hospitalisation he was declared unfit for active service. In April 1918 however he was deemed fit enough to be sent back to France to join the Hawke Battalion and returned to France on 20th April 1918.
Herbert was killed in action 3rd September 1918. He was hit by a machine-gun bullet in front of the village of Inchy while leading his company of the Hawke Battalion in the attack on the Hindenburg Line.' (Mill Hill School Role of Honour)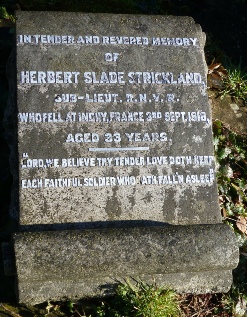 In Tender and Revered Memory
of
Herbert Slade Strickland
Sub-Lieut. R.N.V.R
Who fell at Inchy, France 3rd Sept. 1918
Aged 33 Years
___________________
"Lord, we believe Thy tender love doth keep
Each faithful soldier who hath fall'n asleep"