Friends of Hastings Cemetery
EA D13
In loving memory of
Major General Francis Ventris, CB
Colonel of the Essex Regiment
who died 4th January 1920 age 71 years
and of his wife
Helen Maud
who died on 30th December 1929 age 66 years.
Also of their eldest son Lt.Col. E F V Ventris RA died 14th February 1938.
Also of their son
2nd Lt. Alan Favell Ventris
South Lancashire Regiment who was killed in action near Ypres on 14th September 1915 age 18 years and is interred at Birr Crossroads Cemetery at Zillebeke in Grave? Row D Plot 2.
Also of their second son
Lt. Commander C Peyton Ventris RN
who died 9th September 1965 age 78 years.
Also of their eldest daughter
Mona Goss
who died 20th April 1977 age 83 years
and of their youngest daughter
Madeline Blount
who died 25th January 1995 age 90.
The wife of
Patrick Clavell Blount
who died 22nd January 1999 age 92.



Major-General Francis Ventris
Francis Ventris was born in 1857 as the second son of Rev Edward Favell Ventris who was vicar of West Mersea, Essex.
After education at Newport Grammar School, Francis joined the 44th East Essex Regiment as a Lieutenant on 11 February 1875. He was promoted to Captain on 5 November 1881,Major on 16 December 1883 and Brevet Lt-Colonel on 15 June 1885.
In 1883 he married Helen Maud who was the daughter of Major-General Horatio Davies.
Hastings and St Leonards Observer - Saturday 12 January 1929
FINE MILITARY CAREER.
MAJOR-GENERAL Francis VENTRIS C. B.
Major-General Francis Ventris, C.8., Colonel of the Essex Regiment, who died on 4th inst. at the Saxon Mansions, St. Leonards. at the age of 71, had been a resident of St. Leonards since l921. He was the second son of the late Rev. E. F. Ventris. He was gazetted to the 44th (Essex) Regiment in at the age of 18. His first war service was with the Nile expedition of 1844-5, when he was mentioned in dispatches and was made a brevet Lieut.- Colonel. He also served with the Egyptian Field Force in 1885-6. After passing the Staff College in 1890, he was A.A.G in India from 1895 to 1897 and Brig.-General in Bombay from 1897 to 1902. He was then appointed Major-General commanding in North China, a post which he held till 1906.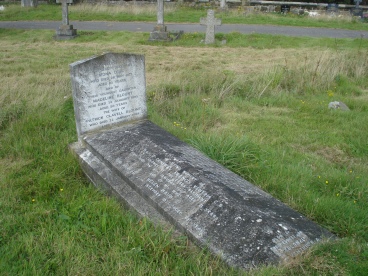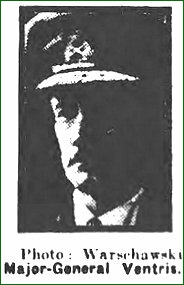 On the outbreak of the Great War he was appointed to command the 25th Division, and in 1915 he was made G.O.C. Forces in China, and held that appointment till 1921 when he went retired pay. He was created C.B. in 1919. and has been Colonel the Essex Regiment since 1904.
General Ventris married, 1883. Helen Maud, daughter of Major-General H. N. Davies. She died in 1926 at St. Leonards. He leaves two sons and two daughters. His youngest son was killed action in France in 1915, aged 18.
The funeral took place on Tuesday at Hastings Borough Cemetery, the officiating clergyman being the Ven. Archdeacon A- V. Alston. Vicar of the Parish Church. St. Leonards. At the wish of the deceased, it was private nature, and there were no military formalities, except that the coffin was covered with a Union Jack opn which were laid the General's full dress, sword and belts, cocked hat and decorations. The principal mourners were Lieut.- Colonel K. F. V. Ventris (son). Miss Madeline Ventris (daughter..........
Simultaneously with the funeral, a memorial service was held at the Essex Regiment Memorial Chapel. Warley Barracks, Essex, and was attended by a large number of officers, past and present, of the Essex Regiment, relations and friends.
Michael Ventris, who deciphered Linear B, was his grandson.