Friends of Hastings Cemetery

London Gazette, 10 November 1914
Regular Forces
The undermentioned Gentlemen Cadets from the Royal Military College to be Second Lieutenants. Dated 11th November 1914 The Prince of Wales' Volunteers (South Lancashire Regiment) Alan Favell Ventris
Buried at Birr Cross Roads Cemetery, Belgium
From Raymond, or Life and Death
"On 14 September, C Company to which 2nd Lieut. Lodge belonged, was in position in a forward fire trench. During the morning the commander of the artillery covering the position informed 2nd Lieut. Lodge, who at the time was in command of C Company, that it was intended to shell the enemy's positions, and as his trenches were only a short distance from ours, it was
considered advisable to withdraw from our trench during the shelling. 2nd Lieut. Lodge gave orders for his company to withdraw into a communication trench in the rear. He and 2nd Lieut. Ventris were the last to leave the forward trench, and in entering the communication trench both these officers were caught by enemy's shrapnel. Ventris was killed, Lodge mortally wounded and died of his wounds shortly afterwards."
From various letters:
On Monday I [Raymond Lodge] went down to a support trench to have meat tea and a chat with Holden and Ventris (two of C Company officers). At a quarter to ten there was a loud rumbling explosion and the dug-out we were in rocked for several seconds.
He and Ventris were moving down the trench in rear of the party which I think must have been seen for a shell came and hit them both, but I think none of the men in front. " Some time later, I don't know how long, I was going up to the line to visit the guns, when I saw Ventris, who was killed, laid out ready to be carried down.
Another subaltern, Mr. Ventris, was killed at the same time, as was his servant Gray as well.
Information sent by Captain Cheves to Mrs. Ventris,mother of the Second Lieutenant who was killed at the same time as Raymond and buried with him :
" He was buried on the right of the Menin Road, just past where the Zonebeke Rail cuts. If you can get hold of Sheet 28, Belgium 1/40,000, the reference is I. 16. b 2. Any soldier will show you how to read the map.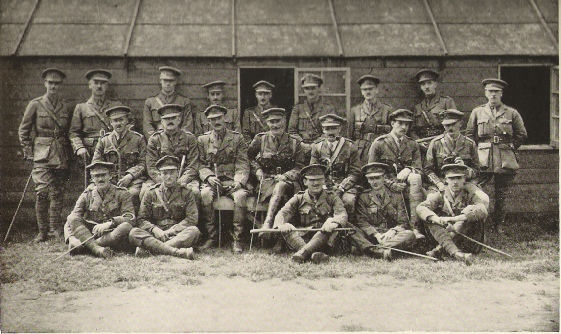 We know that Alan Ventris is in this photo, but do not know for sure where he is placed.
"He is second from the left, the tall one in the middle is his friend Lieutenant Case, and standing next him is Mr. Ventris" but there is some confusion about the photo to which this refers.