Friends of Hastings Cemetery
George died in Russia in 1849 and Anna and her sons James and William returned to America.
James went to West Point but was asked to leave. He soon moved to England and became known as a major artist by the time of the Civil War. The Whistler family, like many others, was divided by the war. Some of their relatives fought for the Union, but Anna's son William had married a Virginian and became a surgeon in the Confederate Army. Dr. William Whistler served at a smallpox hospital near Richmond, as well as at Libby Prison.
Anna lived with relatives in the North until she crossed the lines in 1863 to help care for William, who was seriously ill. After his recovery, William was assigned to Orr's South Carolina Rifles and Anna decided to join James in England. To get there, Anna returned to the city of her birth. The quiet Wilmington of 1814 was now much larger, a wartime boomtown fuelled by blockade-running profits. She found a berth on the Advance before the famous North Carolina-owned steamer left for Bermuda.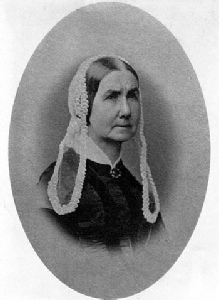 She became acquainted with all the artists in her son's circle and dealt with patrons and art collectors on his behalf, including Alexander Ionides. She acted at housekeeper and agent for James.
Although frequently at odds with his straitlaced mother, James Whistler respected her for her goodness and compassion. During her lifetime, she had devoted herself to nursing 20 members of her family and circle of friends before their deaths. James Whistler was also enchanted by his mother's face, in which he saw "grace wedded to dignity, strength enhancing sweetness." One day in 1870, when his mother was 65, James decided to paint her in his London flat. Wearing her lace bonnet and black dress, she sat in an ebony dining room chair, using a footstool because of her age. Completing it in 1871, he called it, "Arrangement in Gray and Black No. 1." The world would come to call it
"Whistler's Mother." Because the painting was widely adopted in advertisements (and parodied countless times), Anna McNeill Whistler became one of the most recognized North Carolinians in history. She died in Hastings, England, on January 31, 1881. In 1939, the state of North Carolina put up a historical marker at Third and Orange Street in downtown Wilmington to honour her. There is also a marker erected near Clarkton in 1938, by the Elizabethtown Chapter of the Daughters of the American Revolution, dedicated to Mrs. Whistler, the symbol of American Motherhood.
The final years of Anna Whistler's life were quiet, as her only occupation was letterwriting and reading. Religious writings had always been her intellectual pursuit; she circulated periodicals such as the Christian Watchman and the Christian Spectator to her friends and family. Over time she became intensely religious.
Anna was a resident in the parish of Emmanuel at the time of her death and attended Emmanuel church when alive. The Reverend Bennett was the rector of Emmanuel and also lived on St. Mary's Terrace. NEXT