Friends
Of
Hastings
Cemetery
Buried at LP H17 we have three people, two of whom we know very little about.
 Sophia Fleuret, died aged 99 on the 23rd November 1948
 Florence May Williams was born 22 June 1873 and died aged 96 on the 29th May 1970.
The third is Blanche Daisy Williams who died aged 78 on the 22nd October 1959. She was born Miller and married Horace Elphee Williams, who is remembered on his family's grave at BB I25. This grave is not now visible but it was recorded in 2013 when FoHC first started recording gravestones and originally recorded as a tablet grave with a marble cross, kerbs, posts and a vase. The site is near the grave of Alderman Tuppenney. At his funeral in 1910 one of the many floral tributes said "In memory of our Florrie, to her dear friend, the late Alderman Tuppenney, with loving sympathy, from her sister Blanche Williams."
George Archer Williams died aged 19 on the 6th November 1899 (son of Fanny & George Thomas)
Horace Elphee Williams died aged 29 on 15th May1915
"Beloved husband of Blanche Williams died at Brisbane, Australia"
Fanny Williams died aged 66 on the 31st October 1916
George Thomas Williams died aged 68 in April 1936
Waterworks Cottage. St Leonards 1891
WILLIAMS Geo Head M M 37 Mchncl Engnr Wrks(Em'ee) Devon
WILLIAMS Fanny Wife M F 40 Kent - Rolvenden
WILLIAMS George Son S M 10 Hastings
WILLIAMS Harry Son S M 9 Hastings
WILLIAMS Herbert Son S M 7 Hastings
WILLIAMS Horace Son S M 5 Hastings
WILLIAMS John Son S M 1 Hastings
GAIN Frances Servnt S F 16 Housemaid
On 24 June 1908 Blanche Miller married Horace Elphee Williams who was born in Hastings in 1885, into a family of water engineers. The marriage was reported in the Hastings and St Leonards Observer as 'a marriage of interest in cycling circles', as Blanche was daughter of the captain of the St Leonards Cycling Club.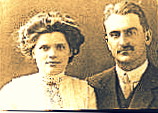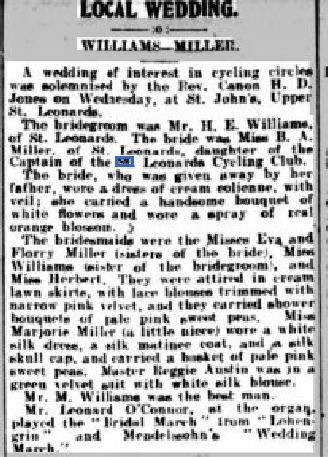 In September 1911 Horace and Blanche boarded the S.S. Otway to start a new life on in Australia.
Horace's father, George, accompanied them on the voyage but soon after returned to England.
Using a reference from the Hastings Water Engineers office, Horace found work as an engineer in a fruit canning factory in Brisbane. Their daughter Gwen was born in Brisbane in July of the following year 1912. A second child, Roy Elphee, was born in July 1914.
Horace's health was probably already failing and may have been the reason for their venturing to Australia. He left Blanche and the children in Brisbaine and travelled to Ballandean, hoping that the change in climate might help his recovery. A letter still exists that describes the rail journey from Brisbane to Ballandean
.https://drive.google.com/open?id=1bqcKI19Fb2FEnO4jkFbo-Pw5PbiQ6k6E
He died on 15 May 1915 and was buried in South Brisbane Cemetery the following day. Blanche sailed back from Australia to England with her two young children in July of that year.
She returned to her family home at 9, Stainsby Road, and helped to run the greengrocer's shop until her death.
Death - Probate 23 Nov 1915
St Mary Magdalen, Sussex, England, United Kingdom
Death Date 15 May 1915
Beneficiary's Name Blanche Amy Williams
16 November 1946 - marriage of the only son of the late Mr. H. E. Williams and of Mrs. Williams, of 9. Stainsby-street, St. Leonards,.