Friends of Hastings Cemetery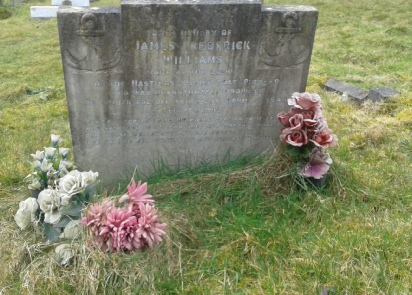 OB C25
To the Memory of
James Frederick
Williams
One of the crew
Of the Hastings fishing boat Pioneer
Who was unfortunately drowned
In a thick fog off Fairlight, April 1st 1949
Aged 27 years
His last parting which we would like to have heard
And breathed in his ear our parting word
Only those who have lost are able to tell
The pain in our hearts of not saying farewell
The Pioneer RX 255 was a nearly new Hastings Fishing boat. She was owned by Jack and Tom Adams, fish salesmen, and the crew on her last trip were Harry Mugridge, Jimmy Williams and James Helsdown.
They left Hastings early on March 31st 1949 to go trawling in Rye Bay. Later that day a very thick fog came down and the Pioneer lost her way as she was homeward bound.
That evening, in calm weather, the Pioneer sank in shallow water, leaving the three crew clinging to the wreck.
The lifeboat and Coastguard were called out in fog with visibility down to less than twenty yards. The rescuers heard the three men and were able to establish their approximate position, 100 to 200 hundred yards from shore.
Coastguard, Josesph Paine, lowered half way down the cliff, had a shouted conversation with them through the fog, but gradually their voices grew weaker and then faded away, without the rescuers being able to locate them. [For more see Peake, Steve: Fishermen of Hastings. Publisher: Speaks Books; 2nd edition (2005) ASIN: B0054WJXN4]
MEN DIE IN FISHING WRECK DRAMA - 02 April 1949 - Hastings and St Leonards Observer
All-Night . Rescue Search Falls in Channel Fog Discovery at dawn yesterday of the wreck of the Hastings fishing vessel
Pioneer, RX2SS, on a reef near Hook's Ledge, 200 yards off the cliffs at Fairlight, with the body of the skipper entangled in the rigging of the mizzen..…
ENTANGLED IN RIGGING - 02 April 1949 - Hastings and St Leonards Observer
..We could not get any closer as there were several feet of water between us and the Pioneer, but the tide was still ebbing and when fishermen from Hastings, who had clambered along the shore, arrived, they went on board and found other clothing but no sign of any bodies. .......
OLD TOWN GRIEF - 02 April 1949 - Hastings and St Leonards Observer
The Pioneer had left for the fishing grounds on Thursday morning and was returning to Hastings when it is believed that she lost her bearings in the fog and struck the reef. There was grief in the Old Town when the last hope had gone, and news came that the wrecked vessel........
Hastings and St Leonards Observer, 3 Apr 1954
Pioneer Memorial Service At All Saints' Church
On Sunday a service was conducted by the Rev. T. G. Savins (rector) in memory of the three fishermen, Skipper Harry Muggrldge, Mate James Arthur Helsdown and James Frederick Williams.....