Friends of Hastings Cemetery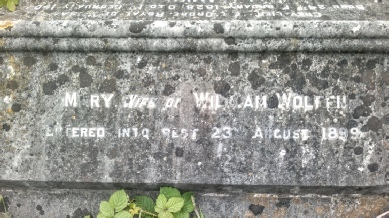 Mary, Wife of William Wolfen
Entered into rest 23 August 1899
Hastings and St Leonards Observer - Saturday 22 February 1902
THE LATE CHEVALIER WOLFEN.
In the obituary notice of the late Chevalier Wolfen it was omitted to mention that he married first Miss Mary Jackson on May 27th, 1802, at Trinity Church, Paddington. The many friends who knew her in Sydney and later London and St. Leonards, and all the poor who came in her way, found her most kind-hearted, and unselfish woman, and she was a devoted wife, she died at Tunbridge Wells on August 23rd 1899, and
William Wolfen
Chevalier de L'Ordre Royal De Wasa
Born 24th February 1828: Died 1st February 1902
Also AMY, his wife
Who Died on September 14th 1920
was buried in Ore Cemetery, her memory being lovingly cherished to the last by he who was laid by her side on February last.William was Mary's sole beneficiary on her death.
William was born in Prussia in 1828. At some point the family emigrated to England.
According to a Kogarah (NSW) history William Alexander Wolfen emigrated from Prussia in 1852. In 1852 he was marrying Mary Jackson at Holy Trinity, Paddington in London, witnessed by his father, Alexander. There is a record of him travelling from Victoria to Sydney in 1858, and we know his brother Augustus also worked in Melbourne, having arrived in 1853.
Having arrived in Sydney his name often occurs in the newspapers for various reasons.
WATER POLICE COURT.Wednesday.
BEFORE the Hon. A. Hill and Mr. J. Oatlev.
William Wolfen (of the firm of Buchanan, Skinner, and Co.) was charged with having unlawfully assaulted and beaten James Cornelius Brost (Viceconsul for the Netherlands in this city). 19 April 1860
NOTICE is hereby given, that the Co- partnership which subsisted between the under signed, BENJAMIN BUCHANAN, THOMAS SKINNER, and WILLIAM WOLFEN, under the firm of BUCHANAN, SKINNER, and CO, has expired by effusion of time. Dated this thirtieth day of March, 1861.
With reference to the above Notice, we beg to state that the business of the late Arm of BUCHANAN, SKINNER and CO. will in future be carried on in the same promises as heretofore occupied by them, by the said WILLIAM WOLFEN, and his brother AUGUSTUS WOLFEN (lately of Melbourne) under the style of WOLFEN BROTHERS.. " Sydney, 3Oth March, 1861.
NOTICE.—Mr. Augustus Wolfen has this day retired from our business, hitherto conducted under the style of "Wolfen Brothers." All debts due to the firm are to be paid to William Wolfen, and all debts due by the firm will be paid by him.—Dated this first dav of March, 1864.
Augustus was back in England by 1865 when he married.
We understand that the claim made by Mr. William Wolfen
upon Messrs. Morrison and Black, on account of damage occasioned by the explosion of nitro-glycorine in Bridge-street, has been satisfactorily arranged. The proceedings, which had been initiated by Mr. Wolfen, as to the enforcement of the rebuilding of the promises, are now rendered unnecessary, the parties having amicably settled the matter.
5 September 1866
For the full story see https://trove.nla.gov.au/newspaper/article/166663877/16551560
1864 Letter. William Wolfen, Sydney, asks that the work in Bridge Lane be suspended until a resolution can be reached re the loss of the entrance to his cellars. (The City Engineer reports that the question of the right of Mr. Wolfen to have this entrance has been referred to the Surveyor General. He recommends that the work be suspended for a fortnight by which time the SG's decision should be known.) See letter in full