Friends of Hastings Cemetery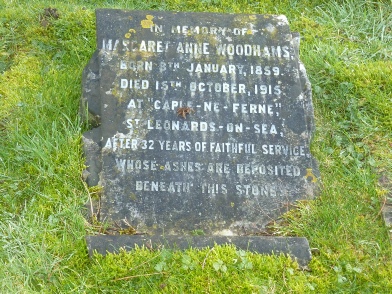 EE H02
In memory of Margaret Anne Woodhams born 8th June 1859 died 15th October 1915 at Capel-Ne-Ferne St Leonards after 32 years of faithful service whose ashes are deposited beneath this stone.'
Margaret was born in Hastings in 1859. In 1861 she was living in Battle Rd with her father William, her mother Ann and her three older sisters, Martha, Julia and Sarah. Her father was a gardener. In 1865 disaster struck the family. Her mother died and Margaret and two of her sisters, Julia and Mary were sent to the Union Workhouse in Battle where they are
listed on the 1871 Census. Her father seemed to disappear at this point. Her oldest sister Martha was in service to the Sadler family in North St, Hastings.
Ten years later, in 1881, Margaret was a housemaid to the four Misses' Searle, elderly sisters who lived at 1, The Lawn, St Leonards.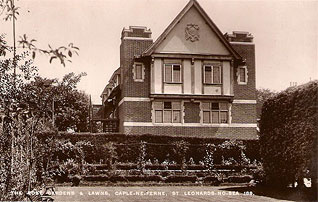 From here she moved to work for the Tubbs family at 42 Pevensey Road. She was one of five servants, and held the superior position of lady's maid.
She stayed with the family after the removal to Capel-Ne Ferne and the death of Mr Tubbs. In 1901 she was housekeeper in charge of 4 servants, and in 1911 she was again described as a lady's maid, and there are five other servants in the house.
She died at Capel-Ne-Ferne on 15th October 1915 aged 56, and was cremated. The family erected a memorial to her remembering her long service to the family.
Caple-ne-Ferne was built in 1879-1880 for Robert Tubbs Nightingale Tubbs. The house was left to Tubbs' widow who died in 1922.