Friends of Hastings Cemetery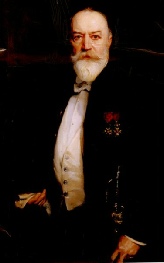 Robert Septimus Gardiner EM M0?
To the precious memory
of
A greatly loved husband and father
Robert Septimus Gardiner
Born March 26th 1856
Entered the fuller life November 16th 1939
'His good deeds were legion"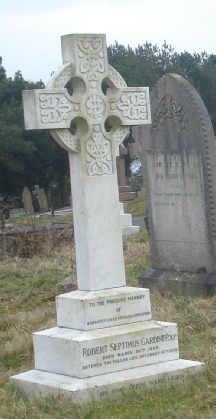 Sir Robert Septimus Gardiner (1856–1939) was a British businessman.
The seventh son of the Rev. George Gregory Gardiner, he was born in Bonn, Rheinland, Prussia, 26th March, 1856. He attended Grenoble University and was fluent in French, German and English.
A successful businessman who served on the boards of many companies; his chief interests were in mining and securities.
He also was interested in the arts: he was the composer of the Lyric Polka, he became director and chairman of the board of the Alhambra Theatre.
Hastings and St Leonards Observer E- 11 Jan 1896
A marriage has been arranged, and will shortly take place, between Mr. Robert Gardiner, youngest son of the late Rev. G. G. Gardiner, formerly Rector of St. Leonards, and Alice, only child of the late Baron Hermann yon Ziegesar, of Dresden.
He became a Knight of Grace of the Order of St. John, having accomplished this by paying £15,000 towards a newspaper called the Near East. He was the father of three children, Cyril, Gerald (later Lord Chancellor), and Nevile, born in 1897, 1900 and 1902, respectively. [Nevile Gardiner, (b. 1902 - d. 1954) was an English diplomat. Gardiner was educated at Oxford, and entered the British Civil Service, originally posted to Washington, D.C. He eventually became Commercial Secretary in the Diplomatic Service at The Hague, Netherlands. In 1954, he was bitten by an unidentified species of venomous insect while visiting the Philippine Islands. He died within 48 hours on 16 November 1939. He was survived by his wife, Madeleine Michelson, daughter of Dr. Albert A. Michelson, who won the Nobel Prize for Physics.
1923 Colliery Year Book entry for Robert Septimus Gardiner
General Manager of Pelton Colliery Ltd.; Joint Managing Director of John Bowes & Partners Ltd.; formerly Managing Director of Meiros Colliery Ltd.; Managing Director Pelton Steamship Company Ltd.; Vice-President of the Kent and Canterbury Hospital; Trustee of the Chelsea Hospital for Women; formerly Hon. Treasurer of the Governesses Benevolent Institution. Knight of Grace of the Order of St. John; Officer of the Legion of Honour.