Friends of Hastings Cemetery

In the obituary of their son William it says:
"He came of a family held in much honour in our town and far beyond it.
There was in William Slade, as there was in his revered mother, what has been called a public soul."
In the 1891 Census William Slade Senior was living on his own means with his wife Mary Ann, and their daughter, Mary Ann who was aged 27. Their address was Walcot Lodge, Laton Road. They had two servants and visitors Robert and Lydia Slade.
Leeds Mercury West Yorkshire, 13 Jul 1903
MR. WILLIAM SLADE. The funeral took place at Hastings on Saturday, at the age cf 81, of Mr. Wm. Slade, a well-known local resident, and formerly of Leeds, where for many years he carried on the business of bookseller and stationer. He was elected deacon of Robertson Street Congregational Church 1867 and again in 1883 and1886. [RS.74]
1729 a Jonathan Tyers the elder became Proprietor of Vauxhall Gardens.
In the 19th century, the Vauxhall Trust Estates were owned by Margaret Tyers [Barrett] Weller Poley. She left the property in trust to William Slade of Walcot Lodge, Hastings and to Robert H. Slade, (b.1871) and Edith Marion Slade (b.1876), the son and daughter of Robert and Lydia Slade of 14 Springfield, Leeds, with much of the fortune (around £30,000) going to various church charities.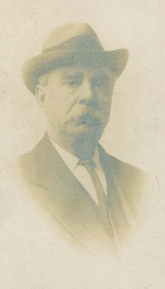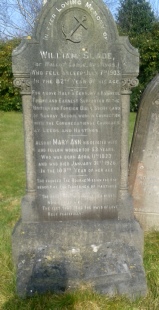 BJ L06
William Slade
of Walcot Lodge, Hastings
Who fell asleep July 7th 1903.
In the 82nd year of his age
For above half a century a faithful friend & earnest supporter of the British & Foreign Bible Society, and of Sunday School work in connection with the Congregational Churches at Leeds & Hastings
Also of Mary Ann his devoted wife
and fellow worker for 53 years
Who was born April 11th 1823
And who died January 31st 1926
In the 103rd year of her age
She founded the Bourne Mission for the benefit of the fishermen of Hastings
The hands that ever moved to bless now
Now folded lie
The feet that rod the ways of love
Rest peacefully.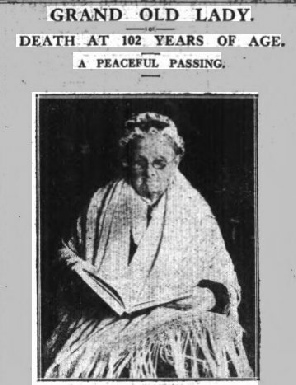 Hastings and St Leonards Observer - Saturday 06 February 1926
Beloved and revered by all who had known her during century's span, Mrs. Mary Ann Slade, the grand old lady of Hastings, passed peacefully at Walcot Lodge, Laton-road, just before the dawn on Sunday, the birthday of her late husband, Mr. William Slade. Mrs. Slade was 102 years of age, and her 103rd birthday would have taken place on April 11th, ten weeks hence. One hundred years ago! When William IV. was King, when the stage coach was the sole means of travel, when the turnpikes were infested with highway robbers, when George Stephenson's Locomotive No. 1 panted and puffed over its few miles of rail from Stockport to Darlington, when men were hung for stealing, and the gibbet stood at the cross-roads—these were the days in which Mrs. Slade spent her childhood
Her passing severs one of the few remaining inks with the pre-Victorian days. Born at Wortley, Leeds, on April 11th, 1823, Mrs. Slade was formerly Miss Mary Ann
Appleby. At the early age of 12 she began her work of social help and devotion (which continued for over eighty years). She then became a Sunday School teacher, and taught the poorer children of Leeds their first words. In those days there was no elementary education as we understand the word to-day, the children obtained most of their learning from the Sunday Schools. Almost without a break Mrs. Slade continued to teach in Sunday Schools at Leeds and ' afterwards at. Hastings until she had passed her ninetieth year. One of her treasured possessions was a Testament which was given to her by some of her first pupils. Her former pupils have spread all over the world, and few of them living to-day do not recall the gentle lady who taught them each Sunday. Mrs. Slade was the oldest member of the Congregational Church, both as regards her age and the length of her membership. At the time of her death her name was the roll of the Robertson-street Congregational Church, where for more than half a century she attended regularly. Her late husband was for some years an official of the church.
In her social work Mrs. Slade was a zealous worker. She founded the Bourne-street Mission in the fishermen's quarter of the Old Town, and was also largely responsible for the establishment of the adult school. She was known and loved by many of the poorer people in the district, and her frequent visits to their homes was source of pleasure both to herself and to those upon whom she called. She was also a Vice- President of the Browning Settlement, in one of the poorest districts in London.