Friends of Hastings Cemetery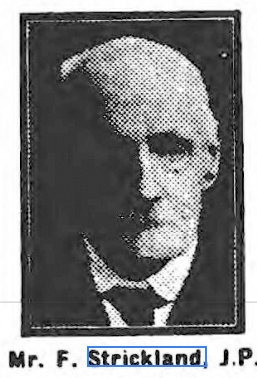 Hastings and St Leonards Observer - Saturday 06 April 1929
DEATH OF A HASTINGS MAGISTRATE. LONG AND ACTIVE LIFE OF MR. STRICKLAND. The Robertson-street Congregational Church has lost one of its oldest and keenest members, by the death on Thursday of Mr. Frank Strickland, J.P. He was born in Battle (where his parents were temporarily residing) on May 4th 1849, the son of Edmund and Martha Trulock Strickland, the youngest of a family of ten children. On leaving the boarding school at Lewes where he was educated, he entered his father's business of corn merchant at George-street. The business was founded in 1818 by his grandfather. George Strickland, who came to Hastings from Appledore about 1800, and it is believed he was the last to be buried in St. Clement's churchyard. [George STRICKLAND Harpsichord House 12 Apr 1859 78 - but not the last[ The family of Strickland has thus been connected with old Hastings for well over a century. His interests, however, were by means centred in business alone.
A staunch but very liberal Nonconformist, he attached himself to the Robertson-street Congregational Church while still in his teens and took up work in the Sunday School, where for many years he acted as librarian, and at the time of his death was Life-Deacon and treasurer of the church. was keenly interested in the work of home and foreign missions, acting as treasurer of these various societies. Many of the little Nonconformist churches in Sussex especially owe much to his quiet but never failing interest in their, at times, somewhat difficult work.
Love of travel was perhaps his greatest recreation, and he visited many countries in Europe as well as in the near East and America. He was a great reader, a man who, though never in the limelight, was ever the alert to cultivate his mental powers and then pass on to others the fruits he had gathered in the fields of literature, art and science.
Mr. Strickland married in 1878, Jane, the eldest daughter William and Mary Ann Slade, of Hastings. He was made Justice of the Peace 18 years ago and sat regularly on the bench until failing health prevented him carrying out his magisterial duties. A memorial service will be held at the Congregational Church on Monday at 2.30 to be followed by the interment at the Borough Cemetery at 3.15 p.m.